Energy Conservation Portal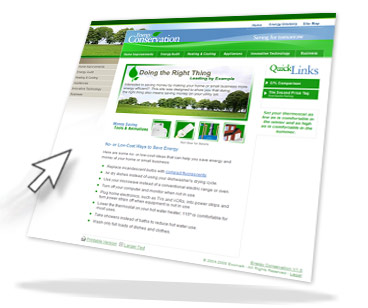 Saving energy is easier than you think. Visit our Energy Conservation web portal to see how you can:
Save energy and money at home or at a small business
Make home improvements to things like insulation, heating and cooling, landscaping, windows, lighting and water heating.
Audit your own home, and/or see what to expect if you plan on hiring a professional audit service.
Find facts about your heating and cooling system, and how learn how to improve or modify it to your standards.
Calculate the costs of running your appliances, alternatives, and ways to save.
Cut costs as a business owner or operator.
Visit today and start saving energy now!