Ontario's System Wide Electricity Supply Mix – 2013 Data

Disclosure to Consumers – Ontario's System Wide Electricity Supply Mix
2013 Data
The Ontario Energy Board (OEB) posted updated supply mix data with information from 2013 earlier this week. As per Ontario Regulation 416/99 and the OEB Directive, this information is required to be disclosed to consumers.
Under Ontario Reg. 416/99, electricity retailers including distributors that provide standard supply service  are required to disclose to consumers  information regarding the Ontario system-wide electricity supply mix in the manner established by the OEB.
In March 2000, the OEB issued a Directive, setting the minimum standards under which local distribution companies (LDCs) must disclose information to electricity consumers. In accordance with that directive, a provider of standard supply service (i.e. LDCs) is required to disclose the system-wide electricity supply mix to a consumer through a mailing that contains the Electricity Facts label annually.
Under the same O. Reg. 416/99, the Ministry of Energy is responsible for providing Ontario's electricity supply mix data for electricity suppliers. The following discloses the system-wide supply mix data for 2013:
System-Wide Electricity Supply Mix (2013)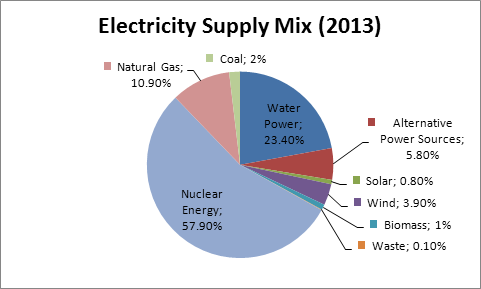 This data must be used by electricity suppliers (electricity retailers and LDCs) for the purposes of complying with the disclosure obligations of O. Reg. 416/99 and the Directive. This data should be considered current until further notice.
The Ontario's System-Wide Electricity Supply Mix: 2013 Data posted by the OEB can be accessed from the OEB web site.