OEB scorecard

Essex Powerlines Corporation Performance Scorecard
Click here to DOWNLOAD the Essex Powerlines Scorecard

Click here to DOWNLOAD the Scorecard Frequently Asked Questions

The Ontario Energy Board's ("the Board") Renewed Regulatory Framework is a comprehensive performance-based approach to regulation that promotes the achievement of four performance outcomes to the benefit of existing and future customers: customer focus, operational effectiveness, public policy responsiveness, and financial performance. The Performance Scorecard was developed to measure these four outcomes of Local Distribution Companies (LDC's) across the province. Essex Powerlines is one of these Local Distribution Companies.
The framework aims to align customer and distributor interests, continues to support the achievement of important public policy objectives, and places a greater focus on delivering long term value for money.
Distributors are expected to achieve continuous improvements that reduce costs and deliver service levels that their customers value. For customers, the Board's performance-based approach aims to encourage distributors to operate effectively, continually seek ways in which to improve their productivity and performance and, importantly, better engage with their customers to better understand and respond to their needs, and demonstrate the value that they deliver.
To facilitate performance monitoring and eventually distributor bench marking, the Board will use a scorecard approach to effectively translate the four outcomes into a coherent set of performance measures. This approach effectively organizes performance information in a manner that facilitates evaluations and meaningful comparisons.
The scorecard is set up to show the five most recent years of performance. The scorecard is designed to track and show an individual distributor's performance gains over a period of time and at a point in time. The Board has set policies on the measures that will be used to assess a distributor's effectiveness and improvement in achieving the four performance outcomes. These measures are summarized below: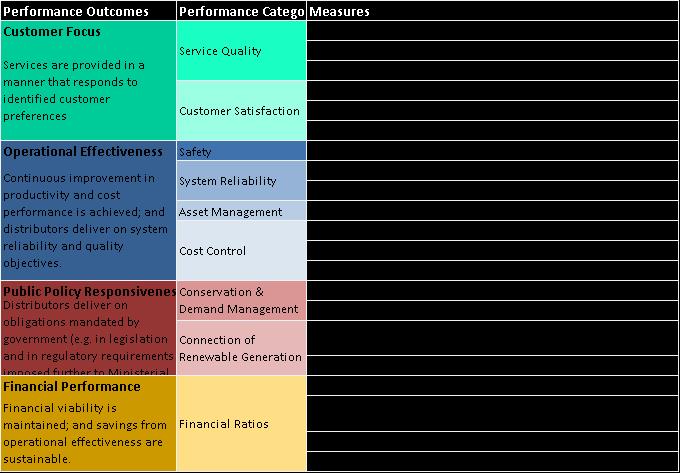 First Contact Resolution and Public Safety are currently being reviewed by the Ontario Energy Board to establish the appropriate measures. Essex Powerlines has engaged Innovative Research Group to conduct a customer satisfaction survey to meet this requirement. The survey will be conducted during September/October. Distribution System Plan Progress will be reported in a subsequent period.
Essex Powerlines remains committed to continuous improvement through ongoing efforts to improve services and/or processes that are valued by our customers. The Scorecard is a valuable tool for customers to monitor our progress and to provide feedback. Scorecard results will be posted annually. Additional information regarding the regulations and requirements by distributors can be found on the Ontario Energy Board's website including the scorecards from other LDC's in the province. www.ontarioenergyboard.ca.
Customers can also direct their inquiries regarding the Scorecard to feedback@essexpowerlines.ca or call our customer service department at 519-737-6640.