Safety Outside Your Home
Electrical Equipment Attached To The Home
Essex Powerlines is responsible for the meter and the wires that leave your stack and attach to the power lines. Customers/Residence Owners are responsible for all electrical equipment attached to the home, including stacks, pipes and the electrical wires they contain.
If you suspect your equipment is damaged, please call a licensed electrical contractor to make repairs and certify safety. Prior to their site visit, please contact Essex Powerlines to coordinate disconnection. Using other service providers may delay the reconnection of your electricity, or lead to insurance issues. Visit the Electrical Safety Authority website to find a licensed electrical contractor (Hire a Licensed Electrical Contractor – ESA ).
Once repairs are complete and have received an ESA Authorization to connect, you must call Essex Powerlines to reconnect your power, 519-737-6640.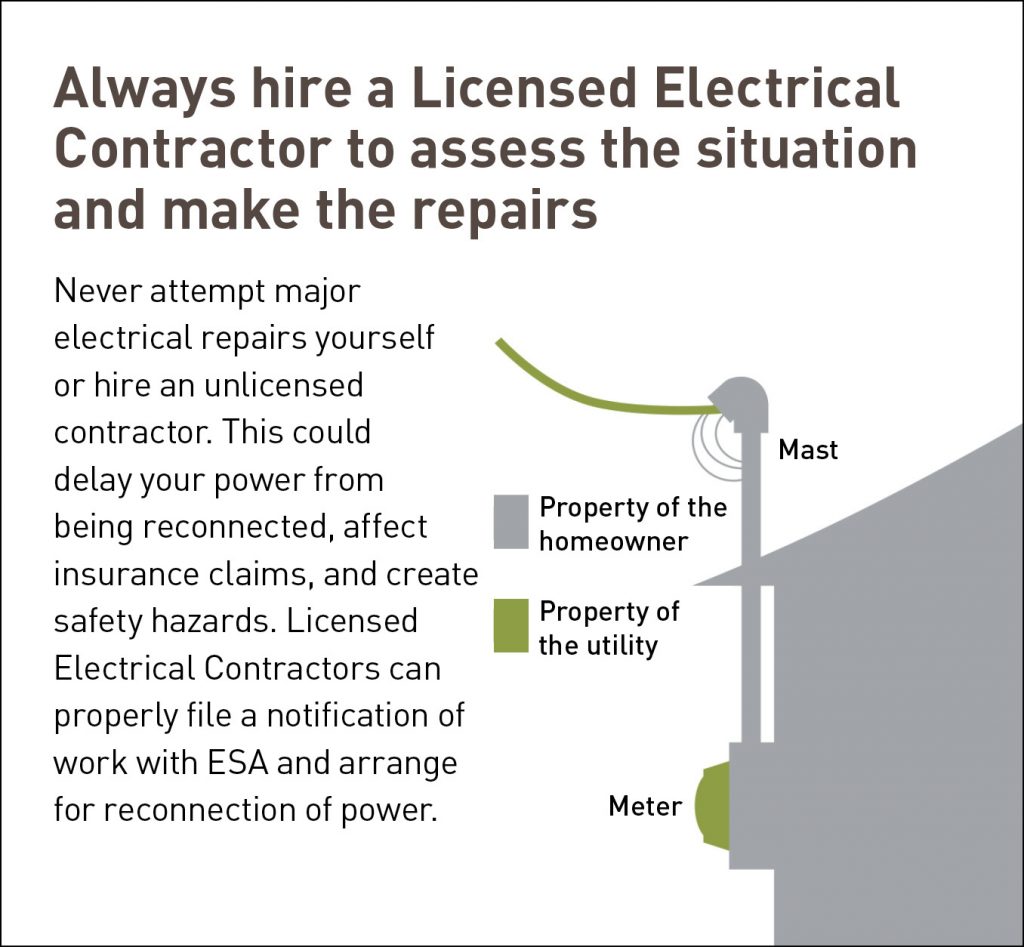 Overhead Clearance
Look up and look out when working or playing outside! Overhead power lines can be very dangerous and can cause serious or fatal shock to those in contact. To ensure your safety, always remain a safe distance from power lines.
Electricity can run through tools (such as ladders), toys (such as kites) or trees that are in contact or near power lines, which in turn, can cause serious shock to you or your child. To stay safe, plan ahead, locate nearby powerlines, and look out.
---
Planting Trees
Proper maintenance of trees growing around overhead powerlines is crucial to avoid potential electrical hazards & power interruptions. Essex Powerlines consistently does tree trimming on a regular basis to help improve the reliability of electricity supply and improve public safety.
Tree contact can cause serious safety concerns, including causing fires,
equipment damage or power outages.
If you notice a tree in contact with an overhead power line in Essex Powerlines' service territory, and it is disrupting the power lines, please contact us. If it is an emergency, please contact us at 519-737-6640, and we will work to keep everyone safe!
---
Downed Wires
Downed wires may occur from vehicle accidents, storms, or equipment failure. If you are near a downed power line, always stay at LEAST 10 METERS (33 feet) AWAY from it and any objects that the lines are in contact with.
It is important to always assume that the downed power line is live. This means that anything near the power line may also be live, including the ground. If you see a downed power line, call Essex Powerlines at 519-737-6640 and Emergency Services at 9-1-1.
If you are in a vehicle that is in contact with a downed power line:
Stay in your car until emergency crews arrive.
If you cannot safely stay in your car due to fire or other unsafe occurrences:

Remove loose fitting clothing
Open the vehicle door all the way
Jump out of your vehicle, bringing elbows and hands close to your body. Do your best to land as far as possible from the vehicle, feet together. DO NOT STUMBLE
Never be in contact with the vehicle and the ground at the same time
Shuffle to a safe distance away from the downed power line, keeping your feet touching at all times.
Once you are in a safe area (10 meters or 33 feet away), wait for emergency crews to arrive.
If you witness a vehicle accident that involves a downed power line, instruct others to stay at least 10 meters or 33 feet away. Don't forget to call emergency services (9-1-1).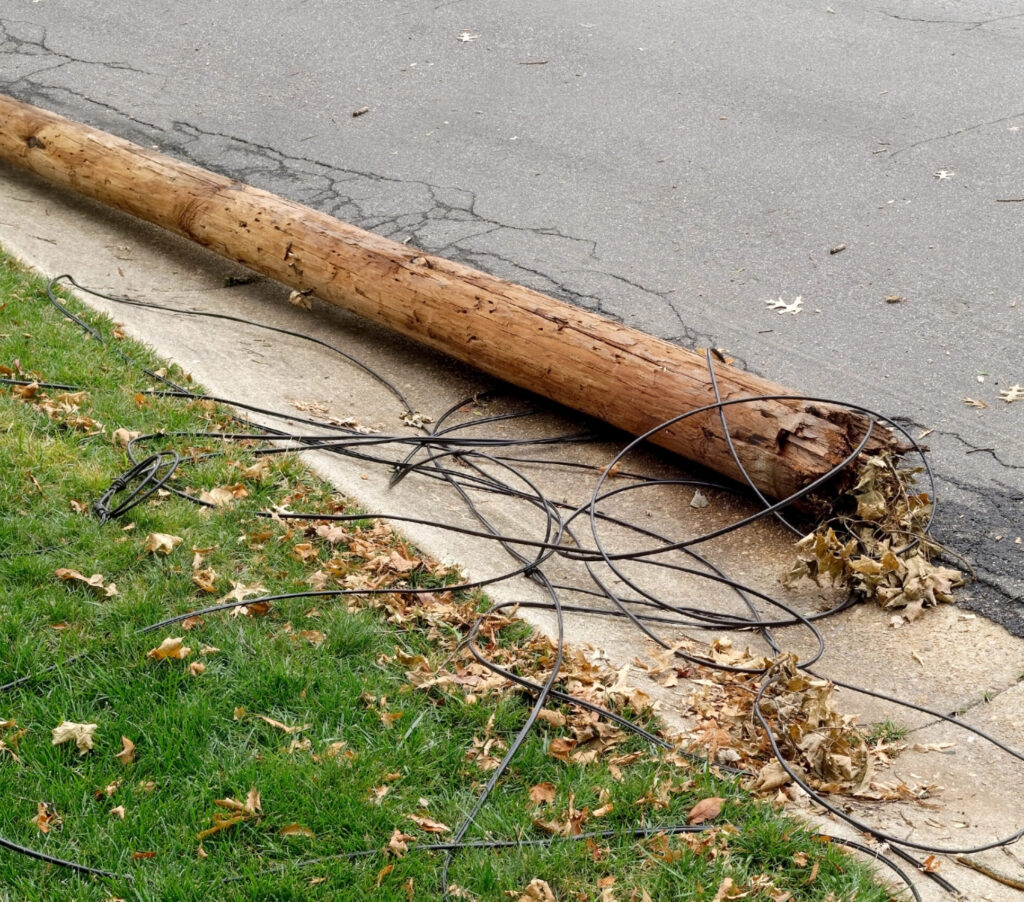 ---
Electrical Equipment outside the home
Electrical equipment can be very dangerous when nearby. If you have a pad-mounted transformer on your property, make sure to keep the area around it clean from obstructions. This will help reduce the amount of outages that occur and will provide Essex Powerlines with quick access in case there is an issue.
For safety reasons, you should never touch outdoor electrical equipment including pad-mounted transformers, meters, and substations. Electricity may be live on the surface of these equipments.
If you see a pad-mounted transformer that is open and there are no workers in sight, contact Essex Powerlines at 519-737-6640.