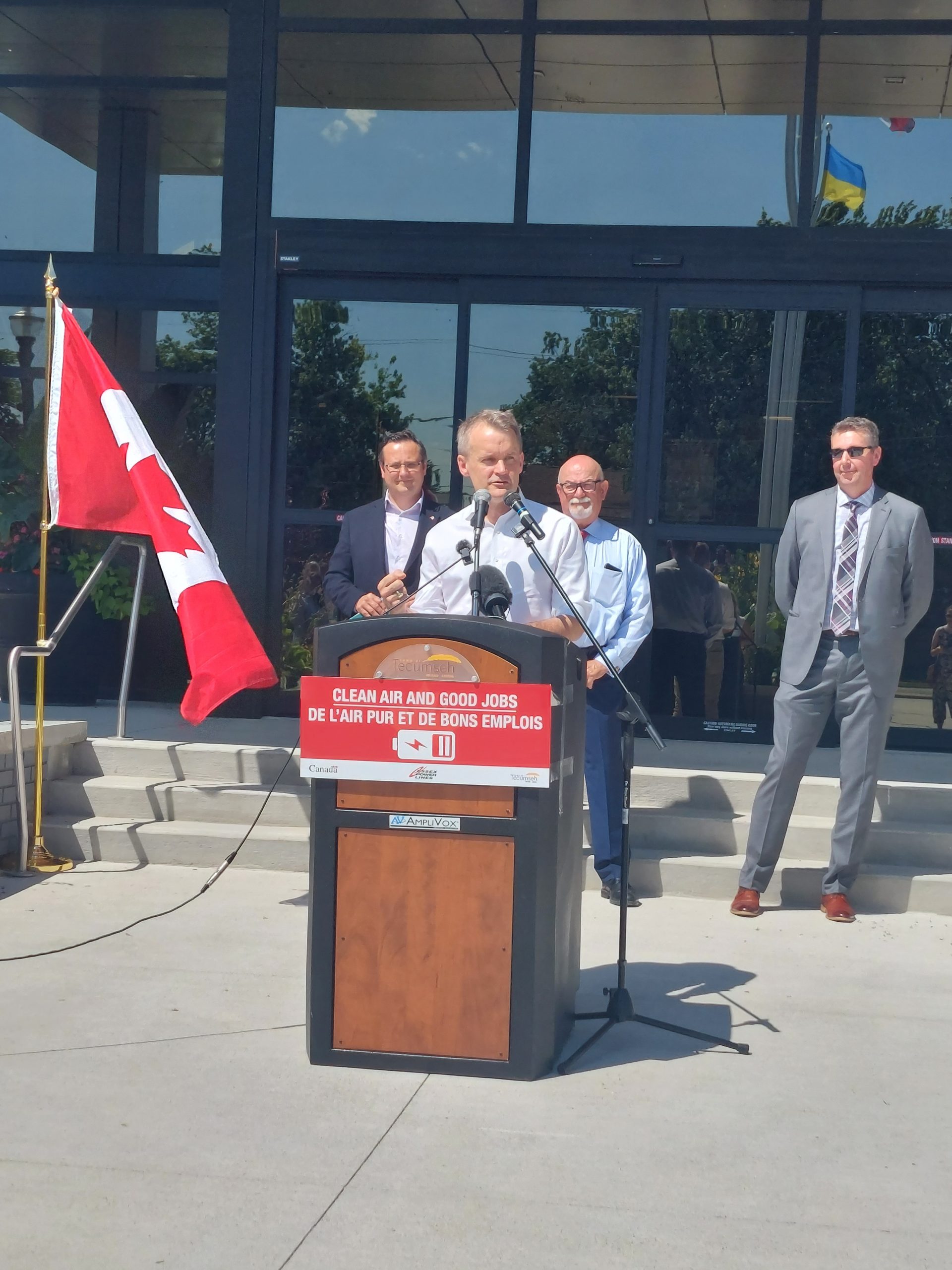 #EVWeek in Canada: 144 New Electric Vehicle Chargers Coming
Reducing emissions from the transportation sector is critical to Canada achieving its climate targets. That's why the Government of Canada is making it easier for Canadians to purchase and drive electric vehicles (EV) in Windsor-Essex and across Canada.

Today, as part of #EVWeek in Canada, the Hon. Seamus O'Regan, Minister of Labour, Irek Kusmierczyk, Member of Parliament for Windsor Tecumseh, and Gary McNamara, Mayor of the Town of Tecumseh joined John Avdoulos, President and CEO of Essex Power Corporation to announce new electric vehicle charging infrastructure across the region.

Within the first three months of launching Charge Up Windsor-Essex County, $1.7M in Government of Canada funding through the Zero-Emission Vehicle Infrastructure Program (ZEVIP) has been allocated to new Electric Vehicle (EV) charging station projects. This program offers financial assistance for businesses and organizations installing EV Chargers.

"Our government's investments, like the 144 EV Charging Stations coming to Windsor-Essex and the region, are making EVs more affordable and charging infrastructure readily available, putting Canadians in the driver's seat on the road to a net-zero future," said the Hon. Seamus O'Regan, Canada's Minister of Labour.

The Town of Tecumseh is one of 23 applicants moving forward with installing EV Charging Stations. Tecumseh will soon be home to four Dual Head Chargers (Level 2) and the planned locations are:
OPP Station (Tecumseh Town Hall) | 963 Lesperance Rd.
McAuliffe Park | 2391 St.Alphonse St.
Lakewood Park | 13451 Riverside Dr.
St.Mary's Park | 12020 County Rd 34

"We are excited about the opportunity to join teams with Charge Up Windsor-Essex County to provide 8 new EV chargers and support the growth of electric cars here in Tecumseh," said Mayor Gary McNamara. "We hope this is just the beginning of bringing sustainable options to Windsor and Essex County! Thank you to the Government of Canada and Essex Powerlines for making this a possibility."

Over the last three months, 23 applicants have been approved for funding through Charge Up Windsor- Essex County. There will be 144 new Electric Vehicle Chargers across 35 locations. The planned chargers will include 112 Level 2 Chargers and 32 Fast Chargers (50kw+). The first completed project is expected to be commissioned this summer. All planned EV chargers will be up and running by March 2024.

"The interest and uptake in this program have been tremendous," said Steve Ray, Chief Operating Officer of Essex Power Corporation. "It is a proud accomplishment for us that we allocated all available funding within only three months, far quicker than the projected timeline. The 144 new chargers approved through this program will play a significant role in continuing to build a sustainable future within our community."

Since 2015, Canada has invested a historic $1 billion to make EVs more affordable and chargers more accessible for Canadians. These investments are supporting the establishment of a nation-wide network of chargers in local areas where Canadians live, work and play, while federal rebates of up to $5,000 are helping more Canadians make the switch to an EV.

"More than strengthening manufacturing, Canada's leadership on climate change is securing our region's prosperity for today and tomorrow by transforming Windsor—Tecumseh into a world leader in the global transition to zero-emission vehicles," said Irek Kusmierczyk, Member of Parliament for Windsor—Tecumseh.