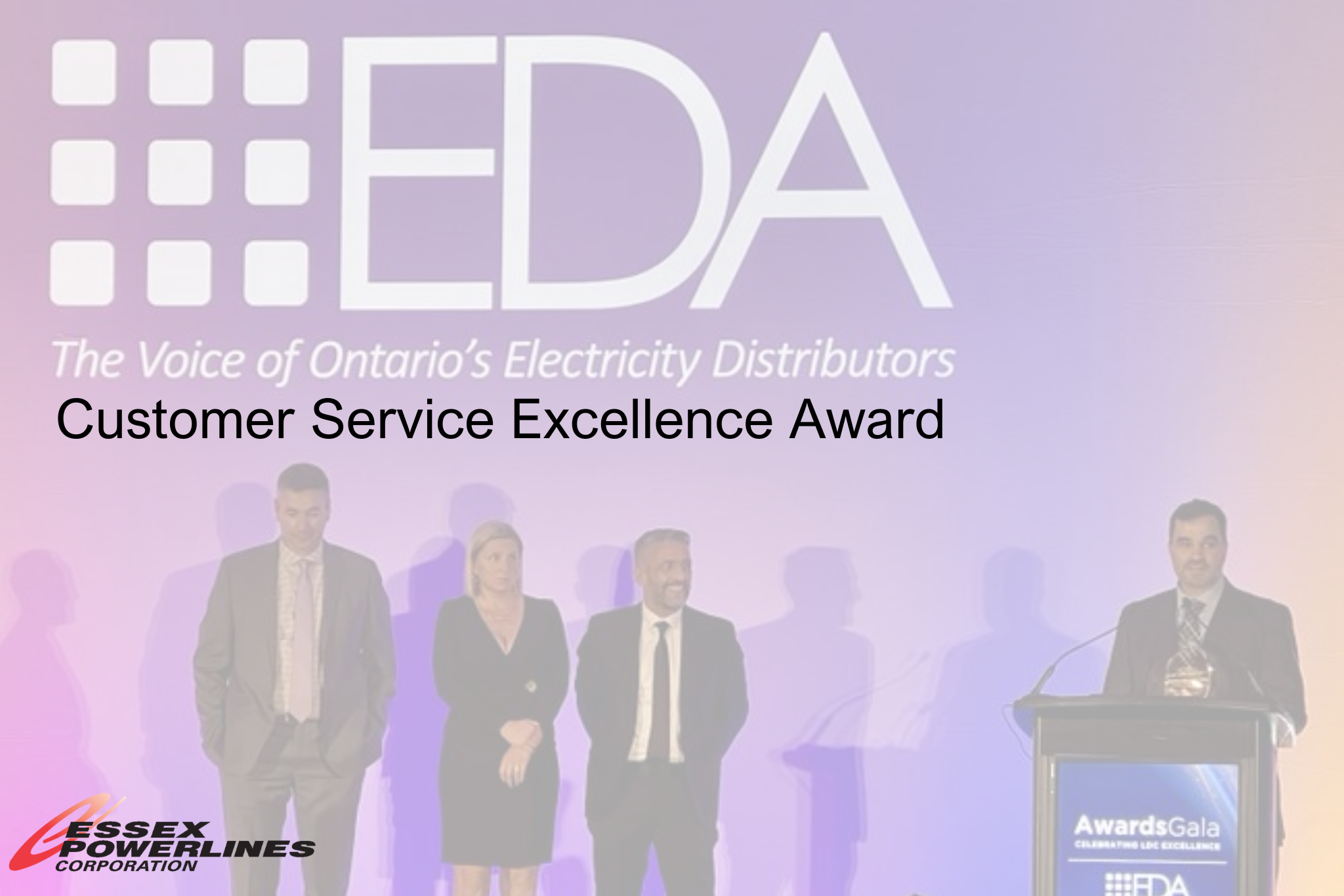 Essex Powerlines Wins Customer Service Excellence Award
The Electrical Distributors Association Awards Gala took place this week at the Fairmont Royal York in Toronto. This annual event showcases the excellence within the electricity sector. Essex Powerlines is the proud recipient of the Customer Service Excellence Award.
"We are incredibly proud to receive this customer service award, which is a testament to the hard work and dedication of our team," said Wayne Richard, Director of Technology and Digital Experience. "Our commitment to putting our customers first is at the heart of everything we do, and we are thrilled to be recognized for our efforts in this area."
Essex Powerlines (EPL) continuously strives to enhance its customer service experience. A part of our customer service road map to modernize the customer experience, a new phone system was deployed in 2022. This solution enhances the customer experience, increases workplace flexibility and assists with regulatory reporting. The organization also recognized a need to adapt to changing customer communications preferences.
EPL's new phone system provided the opportunity to re-examine, simplify and streamline the call menu customers follow before being directed to a live local Customer Service Representative (CSR). The new system includes a built-in Interactive Voice Response component, allowing for recording and automatically sending messages about planned outages to affected customers. In efforts to gain instant feedback on the customers experience with employees, automated surveys have been added to the end of phone calls.
To meet consumer communication preferences, online chat is an additional avenue for customers to contact Customer Service. Online chat is available 24/7 and is located on every page on the company's website (www.essexpowerlines.ca). During office hours, Artificial Intelligence (AI) technology is built-in, transferring the customer to a live CSR. After hours, the AI feature is available.
The team's roll-out strategy made for a successful launch with zero interruptions to customer service delivery.