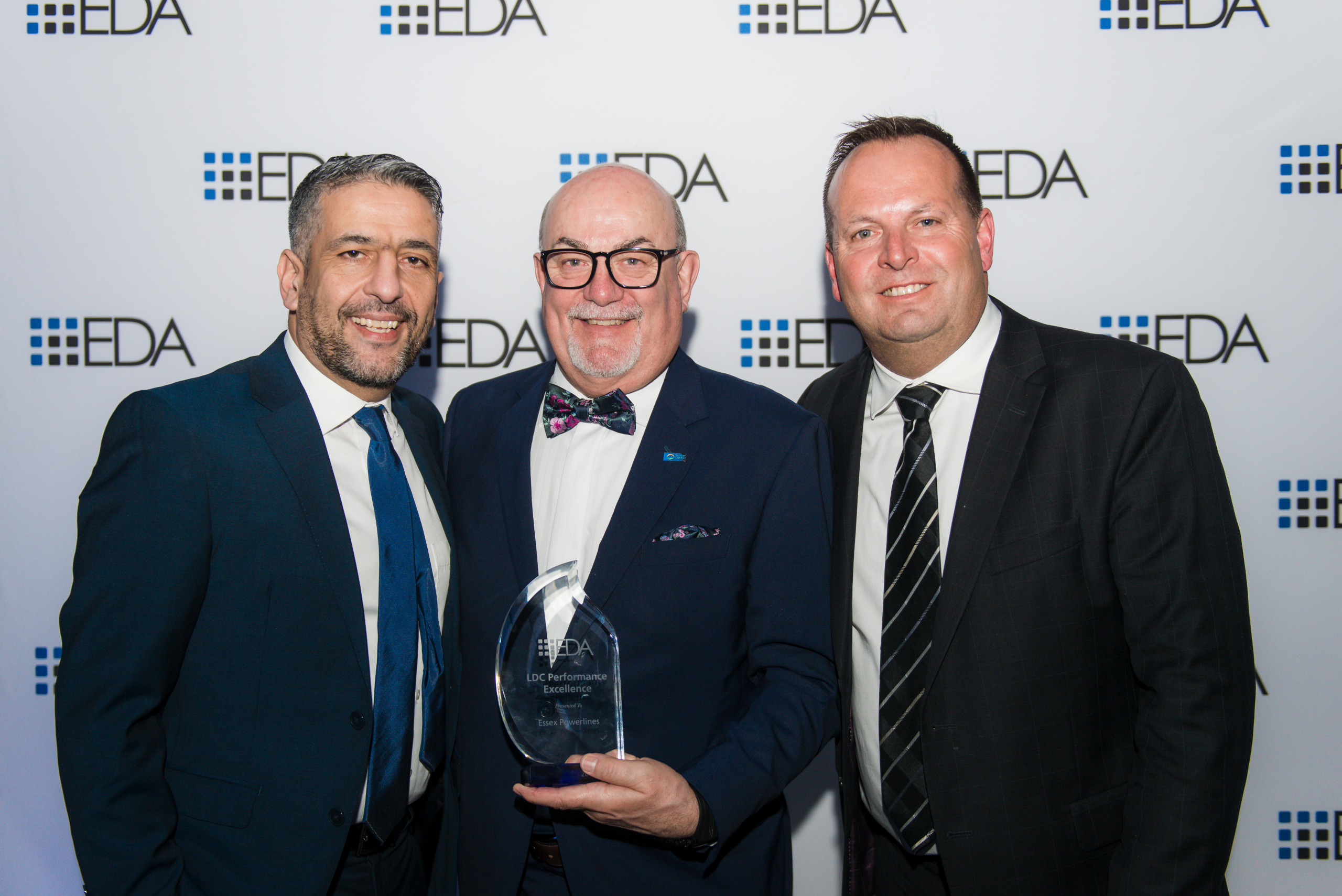 ESSEX POWERLINES WINS LDC PERFORMANCE EXCELLENCE AWARD AT 2020 EDA GALA
Essex Powerlines earns top recognition in local hydro utility awards
Top-performing electricity utilities from across Ontario were honoured last night at the Electricity Distributors Association (EDA) Awards Gala in Toronto. This annual program acknowledges a diversity of key accomplishments, landmark customer programs, innovations and best practices on the part of the companies that deliver The Power of Local Hydro across Ontario.
"Ontario's local hydro utilities work hard each day to deliver reliable electricity and expanded and innovative services," said Ysni Semsedini, President and CEO of Festival Hydro and newly appointed Chair of the EDA. "We're pleased each year to highlight some of the most noteworthy and inspiring achievements that they are delivering on for the benefit of their customers."
The most prestigious award, the EDA Local Distribution Company Performance Excellence Award, recognizes outstanding performance in occupational health and safety, operations, finance and conservation; and contributions to the local community. This year it was awarded to Essex Powerlines for accomplishments that included prioritization of the necessary conversion work to simplify its distribution system, reduce inventory, reduce maintenance costs, and reduce its distribution losses for the benefit of customers.
"I want to first and foremost thank the EDA for this special recognition. We are successful because of our employees, for everything they do on a day-to-day basis." Joe Barile, General Manager, Essex Powerlines Corporation.
The award also recognizes a Local Distribution Company that contribute to the local community. This past year, Essex Powerlines has donated over $8,000 to local charities through paperless billing campaigns, invested $40,000 in youth and education programs (resulting in over $280,000 donated in the past 7 years), and volunteered staff time and resources at various local events.
"It's a tremendous industry to be in and the collaboration amongst LDCs is outstanding. We share and learn from our colleagues. The people, the collaboration, the commitment is what makes this award so special. We're connected to our customers, we're connected to our shareholders, and we're connected to our employees. Its humbling to get this award and to be acknowledged by this sector." Ray Tracey, President and CEO, Essex Power Corporation.