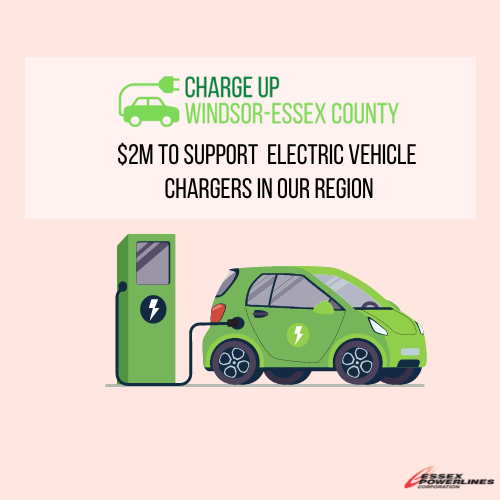 Funding For Electric Vehicle Charging Stations Now Available
Funding for Electric Vehicle Charging Stations is now available in Windsor-Essex County.

Through Natural Resources Canada's Zero-Emission Vehicle Infrastructure Program, $2-million will be invested to help support the deployment and installation of up to 300 electric vehicle chargers across the region. This program is designed to aid the government in its transition to a low carbon economy by reaching the new federal mandatory targets of 100-percent zero-emission light-duty vehicle sales by 2035.

Essex Powerlines has launched, Charge Up, a program which will accept applications from qualified recipients, who would like to install charging infrastructure in public places, on-street, in multi-unit residential building, at workplaces or for light-duty vehicle fleets.
"Essex Powerlines is committed to building a cleaner future," said Joe Barile, General Manager, Essex Powerlines. "This program will not only assist ultimate recipients with funding toward charging infrastructure but also allow us all to work together to build a sustainable future."

"We're making EVs more affordable and charging infrastructure readily available, putting Canadians in the driver's seat on the road to a net-zero future," said Irek Kusmierczyk, Parliamentary Secretary to the Minister of Employment, Workforce Development and Disability Inclusion and Member of Parliament for Windsor–Tecumseh, on behalf of the Honourable Jonathan Wilkinson, Minister of Natural Resources.