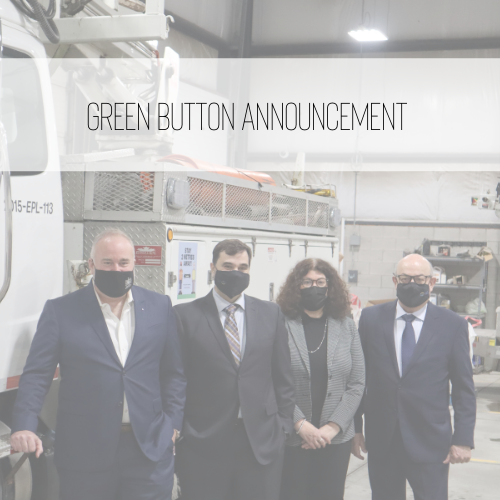 Green Button Implementation
Energy Minister Todd Smith joined Essex Powerlines this morning to officially launch the new Green Button standard that will allow local families and businesses to track and control their energy use and save money on monthly bills.
"I'm pleased to announce that Green Button is coming to homes and businesses across Essex County," said Todd Smith, Minister of Energy. "Families and businesses want to be in the driver's seat when it comes to their energy bills. Green Button is part of our commitment to give consumers more choice when it comes to their energy use and will enable easy, quick and secure access to their consumption data through smartphone or computer apps so they can find customized tips to reduce energy use or switch electricity price plans to save money."
Studies have found that access to energy data, which Green Button along with smart home devices enables, can help consumers achieve energy savings of up to 18 percent. Ontario becomes the first province in Canada to mandate the standard.
"For years, Essex Power and its group of companies has been committed to building a sustainable environment with digital solutions," said John Avdoulos, President and CEO of Essex Power Corporation. "Now, with the Green Button initiative set to launch this spring, Essex Powerlines will further enhance their customers' ability to connect their energy data to value-added third-party services in order to conserve energy and save money."
Essex Powerlines has selected Screaming Power, UtilityAPI and Utilismart Corporation's Green Button Toolset (GBT) Solution. The GBT implementation team includes experts who have years of experience integrating digital strategies for utilities and enterprise energy users, offering the Ontario energy marketplace a proven, mature product that satisfies Ontario's unique requirements.
Customers can expect to have access the the Green Button Toolset in the second quarter this year.