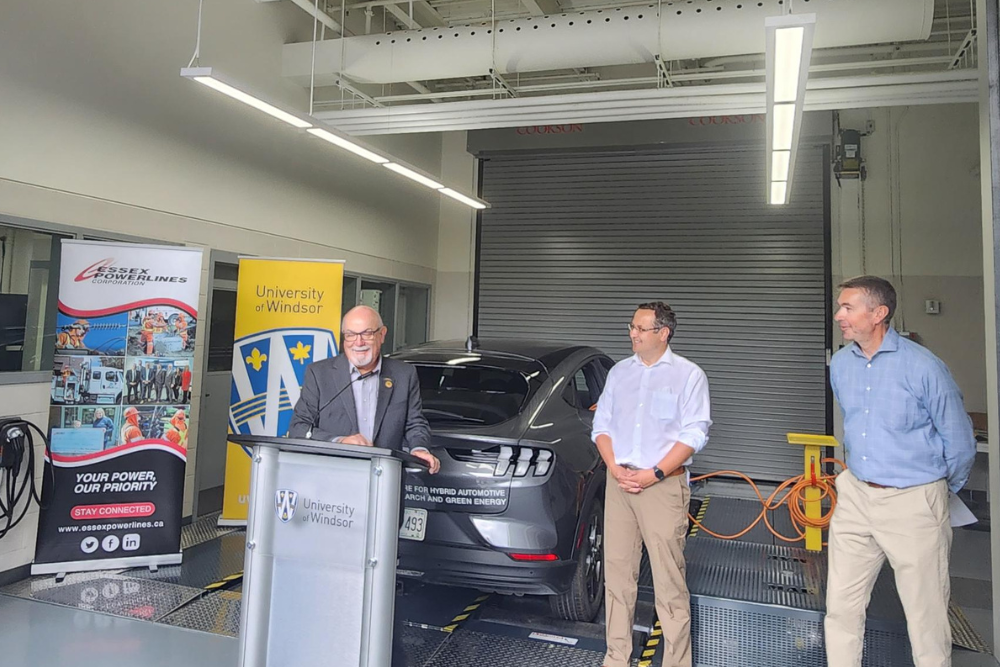 SUCCESSFUL UTILIZATION OF $4.3M IN FUNDING FOR EXPANDING EV CHARGER INFRASTRUCTURE
Through Natural Resources Canada Zero-Emission Vehicle Infrastructure Program, $4.3M has been invested to help support the deployment and installation of electric vehicles chargers across the region.
"Our federal government proudly delivered the Stellantis battery plant and thousands of new auto jobs in our community. And now we are making big investments in charging stations to help get more Canadians into an electric vehicle and on the road to a net-zero future. Since 2019, the Government of Canada has partnered with tremendous leaders like Essex Power to deliver record funding to local partners and install hundreds of new EV chargers where residents live, work and play. Together, we are creating great jobs for workers in Windsor-Essex and securing a future that is cleaner and healthier for generations," said Irek Kusmierczyk, Member of Parliament for Windsor-Tecumseh & Parliamentary Secretary to the Minister of Employment, Workforce Development and Disability Inclusion.
Essex Powerlines created the program, Charge Up Windsor-Essex to distribute the funding. The program accepts applications from qualified recipients, who would like to install charging infrastructure in public places, on-street, in multi-unit residential building, at workplaces or for light-duty vehicle fleets.
"The program's adoption has surpassed our expectations," said Steve Ray, COO of Essex Power Corporation. "The regional interest to build a sustainable future is only growing and it's programs like this that will help us get there together."
There have been 274 Level 2 and 58 Level 3 chargers approved to be installed and will be completed by December 2024. Currently, 68 Level 2 and 10 Level 3 chargers have been completed. There are many successful applicants from Windsor-Essex, including The University Of Windsor who recently installed 24 new EV chargers across their campus.
"Environmental sustainability is a strategic priority for the University of Windsor, and we are proud to be part of this important initiative," said Gillian Heisz, UWindsor's Vice-President, Finance & Operations. "Charge Up Windsor has helped the University make significant improvements in electrifying our campus. The two dozen EV charging stations we have installed provide an important service to our faculty, staff, students and the greater community, and signify the University's commitment to helping create a greener tomorrow."