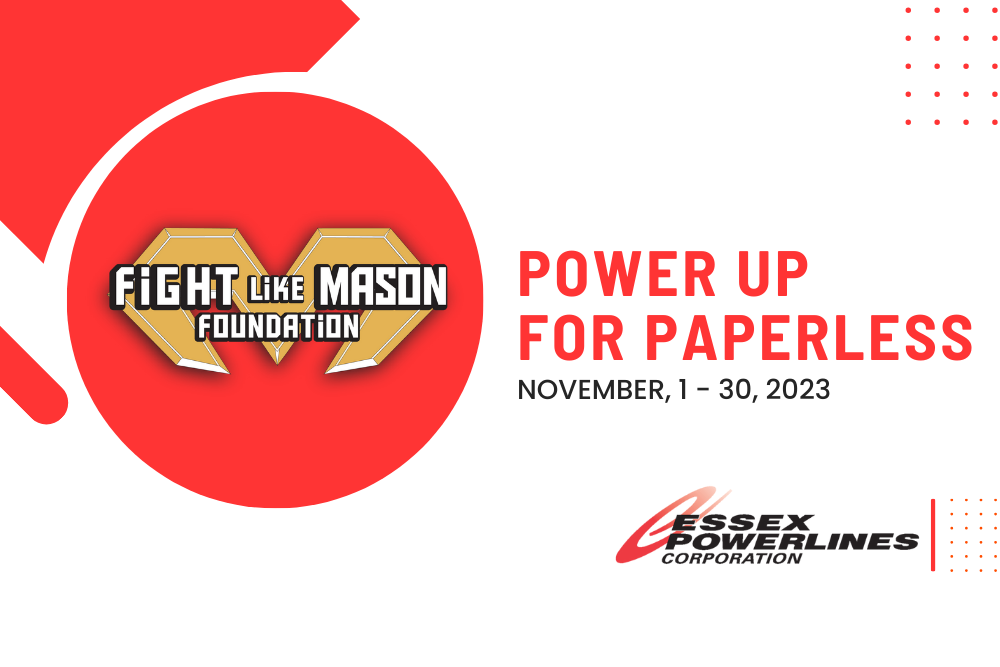 SWITCH TO PAPERLESS TODAY & SUPPORT FIGHT LIKE MASON FOUNDATION
Essex Powerlines is launching a new campaign to encourage its customers to switch to paperless billing.
Starting November 1, 2023. Essex Powerlines "Power Up For Paperless" campaign aims to encourage its customers to make the switch to digital billing. But this initiative is not just about reducing paper usage; it's also about giving back to the local community.
For every customer who transitions to paperless billing during the entire month of November, Essex Powerlines will donate $10 to Fight Like Mason Foundation. This thoughtful and environmentally-conscious approach not only reduces carbon footprint associated with paper bills but also supports a cause, locally.
Power Up For Paperless is only running for the duration of November, so don't miss this opportunity to make a difference.
The Fight Like Mason Foundation is a registered charity organization founded by Iain Macri and Chantelle Bacon, parents of Mason Bacon-Macri, who battled childhood cancer (Rhabdomyosarcoma) from the age of two and triumphed over it at the age of four. Their mission is to enhance the treatment, care, quality of life, and awareness of children diagnosed with childhood rhabdomyosarcoma and other childhood cancers. They established the foundation as a way to honour Mason's legacy and turn their tragic loss into something positive. The organization provides research funding, medical equipment, support programs, and resources to help children and families facing similar challenges, with the goal of ultimately defeating childhood cancer.
Ready to make the switch? Here are a few options:
Call 519-737-6640 and speak directly to one of our customer service representatives. Hours: Mon-Fri, 8:30 a.m. – 4 p.m. (excluding holidays)
Chat online (www.essexpowerlines.ca) directly to one of our customer service representatives. Hours: Mon-Fri, 8:30 a.m. – 4 p.m. (excluding holidays)