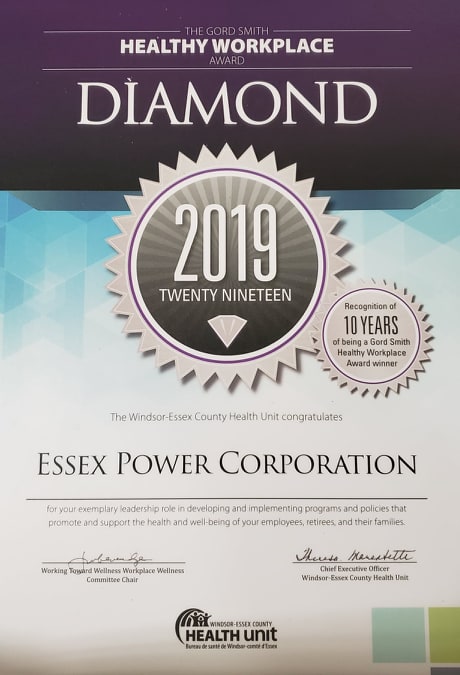 Essex Power receives DIAMOND Level Award at Gord Smith Healthy Workplace Awards Event
Essex Power receives DIAMOND level award at Gord Smith Healthy Workplace Awards Event
For the 4th year in a row, Essex Power Corporation ("EPC") has received the Diamond Level Gord Smith Healthy Workplace Award. The Windsor-Essex County Health Unit and Working Toward Wellness Workplace Wellness Committee's created the Gord Smith Healthy Workplace Awards program, recognizing local employers that provide comprehensive workplace wellness programming to its employees. Recipients of the award demonstrate a strong commitment towards improving the health of their employees by promoting and supporting a comprehensive approach to wellness programming.
Essex Power Corporation has been an award recipient for the past 10 years. To achieve the Diamond Level award, EPC implemented many wellness programs at its workplace. For instance, this past year, EPC held an on-site Flu Shot Clinic for employees to get their flu shot and created an awareness campaign on Flu Prevention. EPC also held lunch-and-learns throughout the year to promote mental health and mindfulness. Employees were taught how to use meditation and relaxation strategies to reduce stress and be more mindful in everyday activities.
EPC looks forward to continuing to demonstrate its commitment to the health and wellness of all employees through various programs.