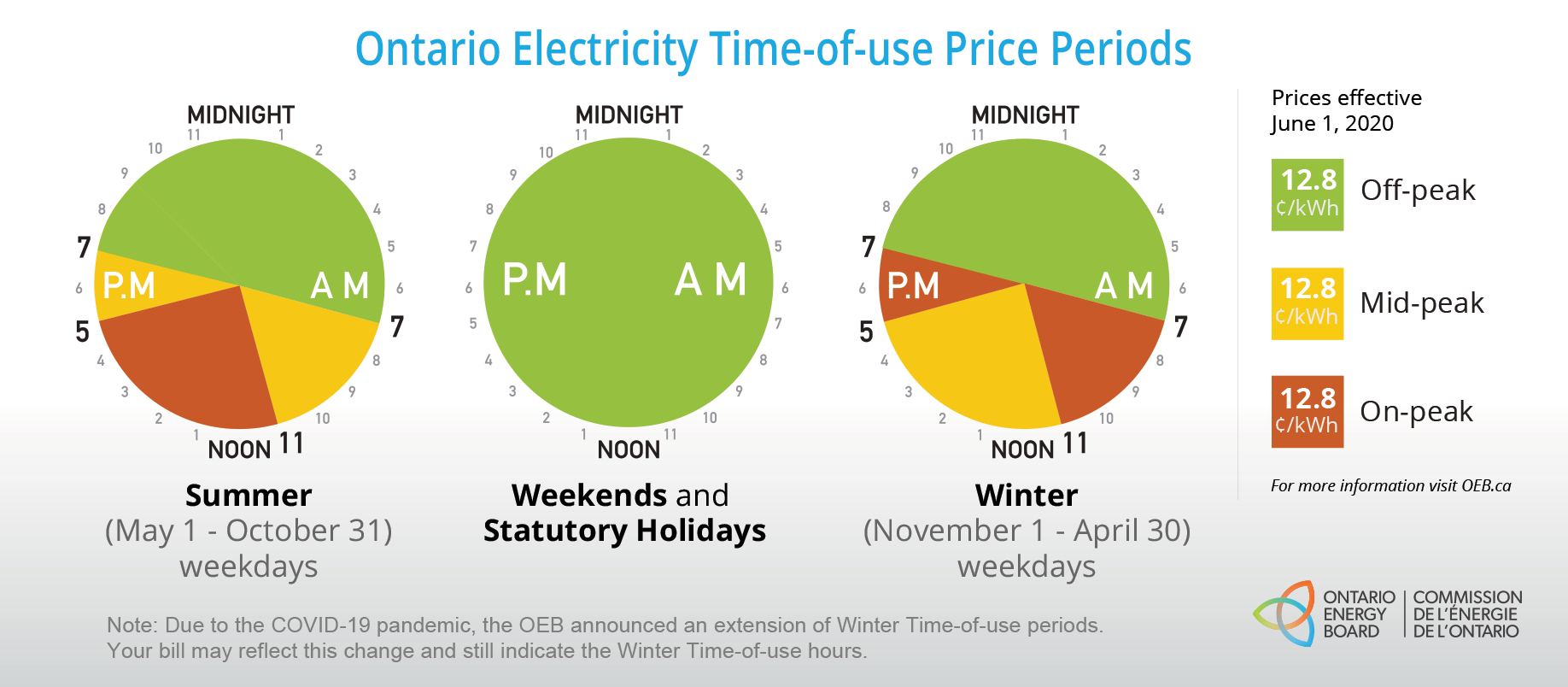 Ontario Government has extended Off-Peak TOU until May 31, 2020
The Government of Ontario is extending temporary emergency relief to support Ontarians impacted by the global COVID-19 outbreak. Households, farms and small businesses who pay time-of-use electricity rates will continue to be charged off-peak rates 24 hours a day, seven days a week until May 31, 2020.
What is being done to support households and businesses with increased electricity usage during this COVID-19 outbreak?
The government of Ontario intends to extend emergency rate relief for time-of-use electricity customers until May 31, 2020. This means that households, farms and small businesses paying TOU electricity rates would continue to be charged the lowest price, known as the off-peak electricity rate, 24 hours a day, 7 days a week until May 31, 2020.
Why is the off-peak rate only intended to be extended until May 31? Does this mean that social distancing practices will be over by then?
As COVID-19 continues to quickly evolve, we want to minimize the financial burden and support people when they're doing the right thing and staying home. That is why the government implemented immediate rate relief when Ontarians were asked to begin social distancing, and enacted other measures such extending the Ontario Energy Board's disconnection ban and enhancing LEAP program funding to support families, businesses and farms.
Will tiered rate customers also be receiving the lower rate?
To quickly implement the pricing change so that it applies during the emergency response period, all TOU customers (including residential, farms and small businesses) received the pricing change and are the customers that would continue to benefit from the proposed extension until May 31, 2020. These are the customers that see the greatest increase in cost due to being home during the day. Tiered customers are charged a consistent rate regardless of the time of day.
Most Regulated Price Plan (RPP) consumers pay TOU prices, the rest of RPP customers pay tiered prices. There are approximately 5 million residential consumers, farms and some small businesses billed TOU electricity prices under the RPP. This pricing change does not apply to RPP customers who pay tiered rates. It would also not apply to consumers who have opted out of the RPP to sign a contract with an electricity retailer.