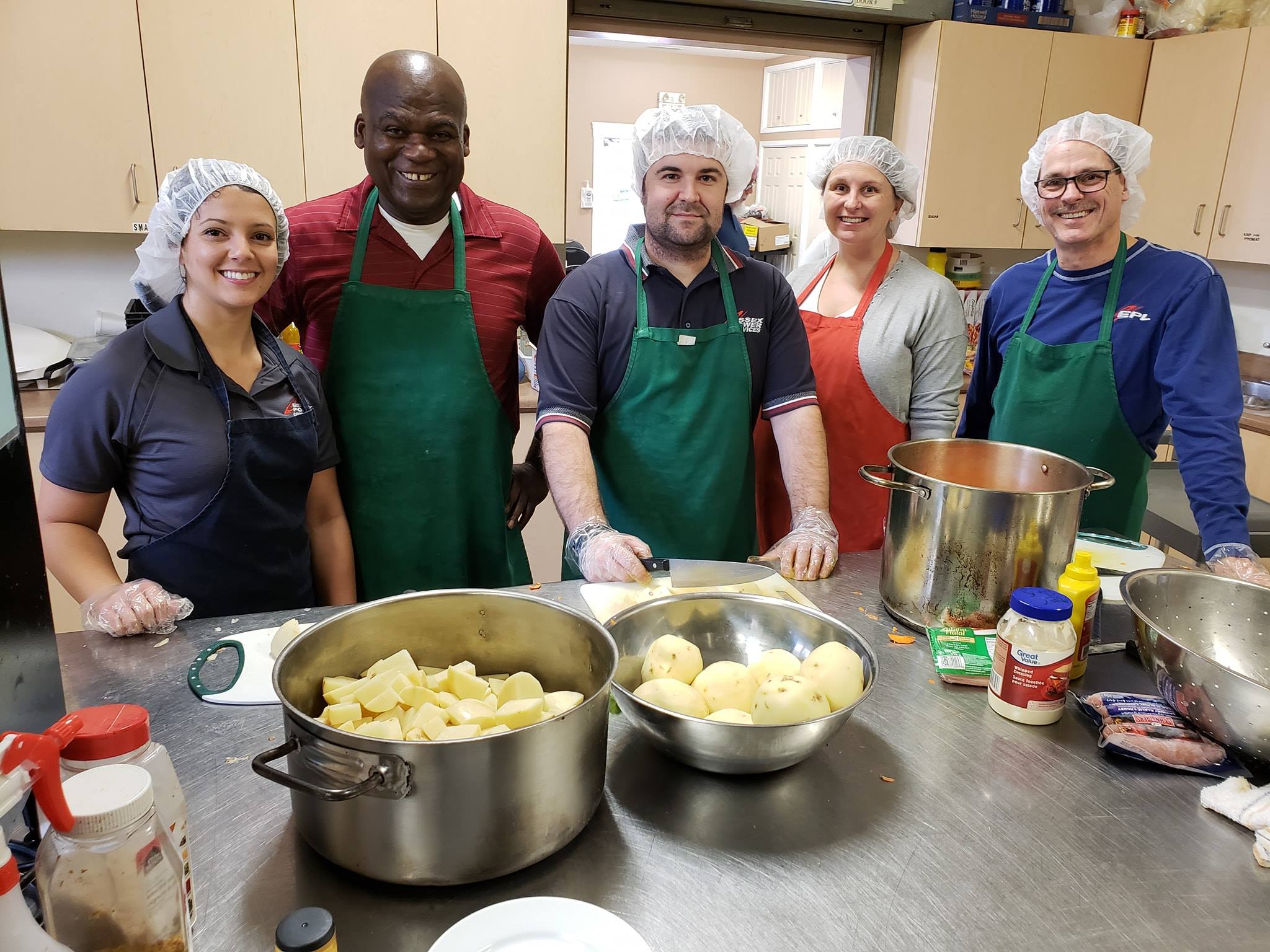 ESSEX POWERLINES EMPLOYEES VOLUNTEER AT LOCAL FOOD BANKS
NEWS RELEASE
NOVEMBER 6, 2018
ESSEX POWERLINES EMPLOYEES VOLUNTEER AT LOCAL FOOD BANKS
Oldcastle, ON: Essex Powerlines Corporation (EPL) is committed to making a difference in the communities they serve.
This morning, workers of Essex Powerlines visited St. Andrew's LaSalle Community Food Bank to lend a helping hand. The volunteers helped with storage of assorted food items in the LaSalle food bank. Their next volunteering engagement will be at Amherstburg Food & Fellowship Mission on Friday November 9th, 2018 where employees will be participating in the preparation of meals.
EPL employees were briefed on the operations of the LaSalle food bank and were given some examples of in-demand items that could be donated. Employees also received a tour of the food bank and learned about volunteering opportunities. St. Andrew's LaSalle Community Food Bank provides nutritional and healthy foods to approximately 70 families in need on a monthly basis.
"The people of LaSalle never ceases to amaze us. Just when you think you can't be surprised, someone (EPL) from the community steps up. That's the joy of a small community!"
Deb Wilkinson, St. Andrew's LaSalle Community Food Bank
EPL, along with ENWIN Utilities, will continue to make a difference in the community with their "Let's CAN Hunger Together" campaign, which runs until December 7th. This campaign allows their customers to help by making the switch to paperless billing. For each of the first 1,000 customers that sign up, a $10 donation will be made to local food banks.
"It brings us great joy to be able to give back to the communities we serve. We recognize that there is a greater need to support our local food banks leading up to the holiday season and are happy to help wherever we can. Signing up for paperless billing presents a simple way for our customers to give back to the community and help make a difference."
Joe Barile, General Manager, Essex Powerlines

From left to right: Heather O'Bright (EPL), Chris Carr (EPL), Chantal Drouin (EPL), Deb Wilkinson (St. Andrews LaSalle Community Food Bank)
For more information customers can contact Essex Powerlines at (519) 737-6640 or visit essexpowerlines.ca
For more information contact:
Amanda Panetta, Marketing & Conservation Analyst
2199 Blackacre Dr., Suite 200, Oldcastle, ON N0R 1L0
Telephone: 519-946-2000 x 261
apanetta@essexenergy.ca